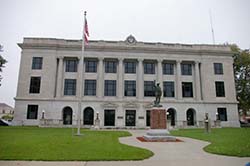 PETTIS COUNTY, Mo.- According to online court records, a Kingsville man, who's accused of an alleged break-in to a business, was formally charged in Pettis County.
Robert Burns, 42, was taken into custody and charged with felony burglary in the second-degree, felony stealing, and felony property damage in the first-degree.
Probable cause statement indicates on February 12, 2017, law enforcement responded to a call in regards to suspicious activity in the area of South Limit Avenue in Sedalia, which turned out to be at Ag-Power.
Burns caused over $800 dollars in damage to the building while allegedly trying to obtain access to chain saws. Officials were able to locate Burns' vehicle which was found abandoned near the business.
An arraignment was held last week for Burns and a hearing is now scheduled for February 28, 2017, at 1:30 p.m., at the Pettis County courthouse.