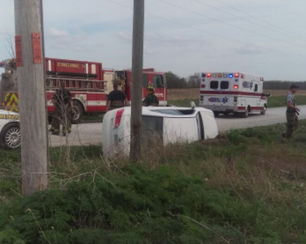 UPDATE: 6:30 p.m. – A crash report submitted by Missouri Highway Patrol says the driver of the vehicle, Kristen Butts, 20, was attempting to avoid an oncoming vehicle.  The southbound Kia Optima slid off the roadway and overturned.  Both the driver, and passenger, Lyndsea Butts, 19, of Higginsville reported minor to moderate injuries.  They were taken to Centerpoint Medical Center for treatment.
HIGGINSVILLE, MO – Reports were just received of a single motor vehicle accident just east of Higginsville.
It was reported off the roadway at the intersection of Rehkop road and AA hwy.  Highway patrol and Higginsville EMS are on scene.  No official reports have been released regarding injuries or persons involved.  A Kia Optima was seen overturned in a ditch on the side of the road.
Motorists are urged to use caution in the area at Rehkop and AA east of Higginsville.