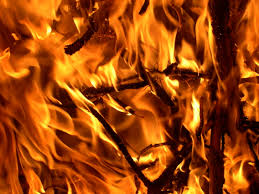 UPDATE: (8:00 p.m.) The fire chief with Fort Osage Fire District, said the blaze was contained within a storage area and did not drastically affect the operation of the facility, which remains functional.  The blaze was contained, and extinguished in approximately three hours.  Several fire crews were dispatched to the scene, as the fire was located four or five levels above ground, which reportedly requires considerable support and manpower to suppress.
There were no injuries, or traffic issues as a result of the fire.
UPDATE: (3:55 p.m.) The Fort Osage Fire Department located in Buckner has confirmed reports of the commercial fire. Also stating that more than five district fire departments have been assisting in mutual aid. Crews have been working the scene for more than two hours and according to dispatch the last on scene update stated that crews will be needed for an undetermined amount of time. The dispatch employee that spoke with KMZU indicated that it is a large fire and people within the area or who are traveling through the area should avoid the scene.
SIBLEY, Mo. – KCP&L – Sibley Generating Station south of the Missouri River in Sibley is reportedly experiencing a commercial fire.
Reports indicate Fort Osage Fire Department from Buckner, Missouri is on scene and receiving mutual aid from Wellington Fire District, as well as, Lee Summit and Lexington.
Please avoid the area if possible to allow emergency crews to contain the situation. KMZU will bring you new information as it becomes available.