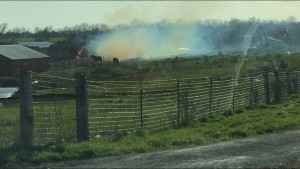 UPDATE:  8:15 p.m. – Reports from the Fire Department indicate crews were ready to leave the scene at approximately 8 p.m., with the blaze having been brought under control.  No injuries have yet been reported.
CARROLL COUNTY, Mo. – The Carrollton Fire Department has confirmed listener reports of a fire at the Amish saw mill located in Carroll County alone US-65 highway, approximately 8 miles north of Carrollton.
Fire and emergency crews are on scene. The fire is not yet reported as under control.
The National Weather Service has Carroll County under a red flag warning, indicating a burn ban.