UPDATE: 08/10/2017 11:25 a.m. — KMZU News has learned new details regarding a crash in Howard County Thursday morning.
The Highway Patrol reported investigating the crash on Highway 240 just north of County Road 209 near Glasgow at 8:57 a.m. Thursday. 32-year-old Joshua E. Engel, of Fayette, fell asleep at the wheel, causing his vehicle to travel off the left side of the roadway, strike a driveway and become airborne. Engel's vehicle then collided with the ground and rolled over.
Engel was moderately injured and was transported by air ambulance to University Hospital in Columbia to receive care.
HOWARD COUNTY, Mo. — KMZU News has received reports of a rollover vehicle crash at the intersection of Highway 5 and 240 in Howard County. According to reports, the crash happened near Glasgow at around 8:50 a.m. Thursday.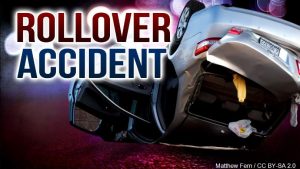 It is not clear which lanes the accident occurred in and it is also unclear if the road is blocked or any injuries were sustained, however reports do indicate at least one person is trapped inside the overturned vehicle.
Drivers in the area should use caution as delays are possible. Stay tuned to KMZU 100.7 or refresh this page for the latest update.