UPDATE: (5:13 pm) Ten people were involved, and nine were injured in this morning's crash involving a tour bus that was hit by a passing semi.
The injured passengers and bus driver were transported to Centerpoint Hospital, with one person listed in serious condition. The driver of the semi reported no injuries and refused treatment.
Click here to view the full highway patrol crash report.
UPDATE: (02/22/16) The accident scene has been cleared. It was reopened just before 2 p.m. Monday after more than two hours of traffic back up.
At one point I-70 was backed up to about a mile east of Adams Dairy Parkway, or approximately 4 miles from the accident site.
UPDATE: (02/22/16) The Highway Patrol has now reported that 10 people on the tour bus were injured and taken to a nearby hospital. Two of the passengers' injuries were listed as serious.
The bus was reportedly on the side of the highway with a flat tire when it was struck by a passing semi. The bus was spun around and knocked off the shoulder, almost overturning.
Crews are expected to remain on scene until about 2 p.m.
UPDATE: 12:30- According to the Mo-DOT traveler information map, the crash is expected to be cleared by 1:50 p.m. Injuries are still unknown at this time.
UPDATE: 11:55 a.m.- Motorists are being re-routed at Adams Dairy Parkway.
BLUE SPRINGS, Mo— A KMZU listener has reported an accident involving a bus near Blue Springs.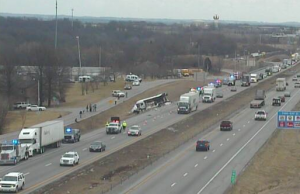 The Missouri State Highway Patrol has confirmed a tour bus was involved in the crash which occurred in the west bound lanes of I-70 at exit 17. An estimate of those involved and injuries are currently unknown.
If you are in the area or travelling that direction, extreme caution is advised as emergency personnel will be in the roadway, working to clear the scene. Traffic flow is currently down to a single lane.
We will continue to monitor the situation and bring you more information as details are released.