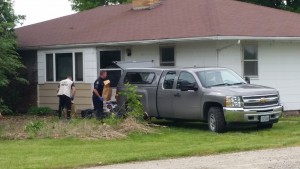 Update 4:35 p.m.– Clinton Police have confirmed that James Barton Horn Jr. was shot and killed Saturday near Turkey Kern Memorial Wildlife Area located on Johnson County SE 650 Road.  The location is just outside the Pettis County line in rural Green Ridge near Whiteman Airforce Base.  Police are reporting that Horn was living in an abandoned home within the Conservation Area. Around 11:15 dozens of police were involved in a shootout with Horn. Horn allegedly barricaded himself in a closet with a firearm as officers surrounded the residence, no officers were injured. Police had recently released a new photo of Horn and urged him to turn himself in earlier in the day. At the time the incident occurred deputies were canvassing the area for Horn, following up on reports of suspicious activity.
According to the Pettis County Sheriff's Office the Rural Missouri Major Case Squad has been tasked with the responsibility of processing the scene, and criminal investigators from the Missouri State Highway Patrol's Drug and Crime Control Unit are working the shooting incident.
Click below to hear Clinton Police Lieutenant Sonny Lynch.
UPDATE: 4:50 p.m.- The Sedalia Police Chief has stated all actions are wrapping up for the evening. While speaking with KMZU's Matt Gang, the Chief stated that he believes the Clinton Police Department will be releasing a statement regarding the day's unfolding tomorrow. We will continue to watch for updates and bring listeners more information as it is available.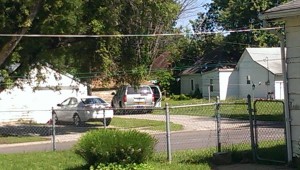 3:50 p.m.- It has been reported that a State Troopers advanced quickly on the shed in the back yard yelling, "Get out, get out." Gang has reported the yelling has stopped however the 5-6 troopers that entered the building have not exited at this moment.
2:50 p.m.- Reportedly, tactical teams have been in and out of the home but do not seem to be acting aggressively. A law enforcement officer has stated there will be an update on the situation shortly.
2:40 p.m. KMZU's Matt Gang has reported a tactical robot was sent into the home and has now exited the residence. Further information is pending.
2:15 p.m.- Gang has reported that tactical forces approached the front door of the home and then quickly backed away however there has been no indication as to why.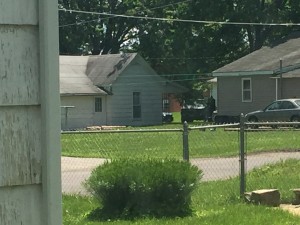 1:45 p.m.-Police have now been in a stand off position for approximately 8 hours. KMZU's Matt Gang reports the situation seems to be at a stand still as authorities continue to call for the individual inside to exit the home.
Gang has received confirmation from Missouri State Highway Patrol that someone is in the home.

 Gang is now in a residence diagonal to the suspects home. A sniper with the tactical team has reported movement in the building. Reportedly, Horn has been seen  looking out the side window on multiple occasions.
 Tactical teams are assembled, ready to make their move as they believe the suspect is in the residence. KMZU's Matt Gang is positioned behind the home and believes he saw movement in the back window, however those reports are not confirmed. Reportedly, law enforcement has pushed back the line for media as they prepare to enter the residence. A video of the situation before the push back has been posted at KMZU's Facebook page.

Gang has reported tactical teams are in position in front of the home. An officer has instructed Horn to exit the residence at least 3 times. Gang will continue to report on the situation as it unfolds.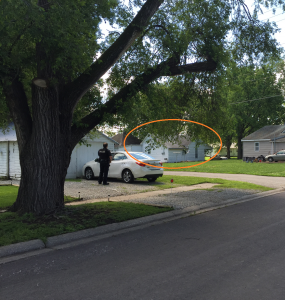 KMZU's Matt Gang is on scene at the suspect's residence. Reportedly, no one has entered the home at this point in time. Gang said multiple officers armed with tactical rifles are surrounding the home. He will remain on scene and bring us live updates as details become available.
 9:51 a.m.-Sedalia Police Chief, John DeGonia, has stated that at 9:45 this morning the Missouri State Highway Patrol and Tactical Team have received a "No-Knock Search Warrant due to the violent nature of Mr. Horn." Reportedly, after this mornings alleged events, Horn drove the vehicle to Bothwell Regional Hospital where authorities later found it to be abandoned. According to reports, law enforcement has been surrounding Horn's residence in Sedalia since approx. 5:30 a.m.

 KMZU has received reports that the Sedalia P.D. has blocked off the 800 block of East 15th St. in Sedalia around Horn's home.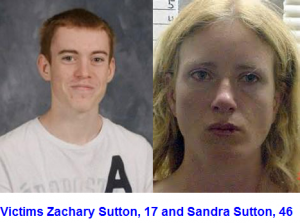 Reportedly, authorities have been on scene there since approx. 5:30 this morning. KMZU's Matt Gang is in route to the location.

930 a.m.-The Sedalia 200 School District has released a statement indicating that the schools are following their normal daily lockdown procedures, however all outdoor activities have been cancelled due to the law enforcement activity in the area. Superintendent Brad Pollitt has stated there is no indication that students are at risk. The measures being taken are strictly for precautionary reasons.
The man who has been wanted since the 30th of April for kidnapping, armed criminal action, and unlawful use of a weapon after locking his girlfriend in a box, is now being sought in connection to her and her sons murder.
Reportedly, Sandra Sutton, 46, and her son Zachary Sutton, 17, were found shot dead inside her brothers home in the 700 block of E Fanklin in Clinton Missouri early this morning. It was indicated that Zachary was a student at Clinton High School and had been living with his uncle for some time. After Sandra was able to escape Horns home in late April, she reportedly began staying at the residence as well. Reports indicate, Sutton was never in protective custody.
Authorities say James Barton Horn, 47, is still not in custody. Horn is described as a white male standing 5′ 11″ tall, weighing around 175lbs and has brown hair and brown eyes. Missouri state highway patrol, Clinton Detectives, and the Henry County Sheriff's Office as well as the Missouri Rural Major Case Squad are all reported to be investigating the double homicide and warn citizen to vigilant as Horn is still on the run.
He is known to frequent the Pettis County area and should be considered armed and dangerous. If you see Horn you are asked to contact police immediately.
KMZU will continue to monitor the situation.