UPDATE: (04/21/2018) 2:25 p.m. – Crews reported the blaze under control about 1:52 p.m. but crews are still on scene to make sure the flames are completely extinguished.
Marshall Fire Department and Saline County emergency crews are on scene in the 1300 block of South Salt Pond Avenue for a residential structure fire.
The location is just to the west of the Missouri Valley Community Action Agency between College Street and North Drive.
The call went out just after 1:00 p.m. Saturday April 21, 2018. Initial reports indicate the fire started in the kitchen of the residence then spread to the basement. Unconfirmed reports say that the occupants of the building have all evacuated safely.
Motorists and citizens should stay out of the area as emergency crews work to bring the blaze under control.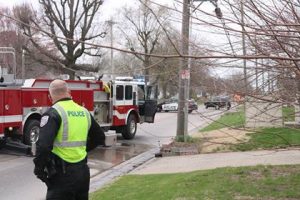 KMZU will bring you more information as it becomes available.