UPDATE: 3:25 p.m.- Sergeant Roger Gibson with the Marshall Police Department has reported the scene of the crash between a passenger vehicle and motorcycle in Marshall has been cleared.
Gibson reported the accident occurred as southbound motorist Dora Warden of Marshall was stopped at the intersection of south Grant Avenue and West Vest Street. As Warden proceeded through the intersection, eastbound motorcyclist, Jonathon Adams of Marshall, struck the passenger side door of Wardens vehicle.
Adams was immediately ejected from the 2009 Suzuki, over the top of Warden's 2000 Chrysler.
Both party's were reported to have sustained injuries. Records indicate Warden suffered a medical condition after the crash occurred.
One victim was also air lifted to a local medical facility however it was unclear which motorist was transported.
MARSHALL, Mo— KMZU has received reports of an accident in Saline County.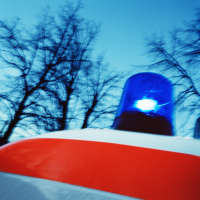 Initial reports indicate a passenger vehicle and motorcycle have collided at the intersection of south Grant Avenue and West Vest Street in Marshall.
A first responder with the Marshall Fire Department has confirmed the incident and stated crews are on scene working to clear the crash. The roadway has been reported as block and motorists are asked to stay clear of the area.
Injuries are unknown at this time.
We will continue to monitor the situation and bring you information as the scene develops.