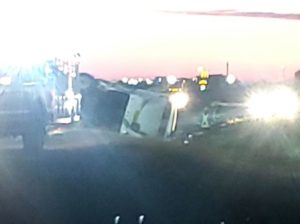 CHILLICOTHE, MO – Initial reports Tuesday morning indicate a semi overturn crash at Chillicothe.
Highway Patrol confirmed a semi has reportedly overturned in the median traveling westbound on Highway 36, west of the 65 interchange near LIV 235. The crash is not blocking lanes, however motorists are urged to proceed with caution approaching the intersection of 65 and 36 in Chillicothe.
No reports have been received thus far regarding injuries.