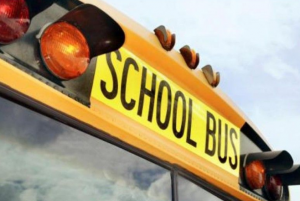 UPDATE: (05/13/18, 02:38 a.m) – The Missouri Highway Patrol says alcohol was a factor in a collision between an minivan and a Grandview School bus Saturday night. Troopers responded to the crash around 7:25 p.m. last night, at Northwest 50 Highway and Northwest Route 7 in Johnson County. The impact resulted in the bus overturning onto it's side and causing minor injuries for eight students. The driver of the minivan fled the scene on foot and was later arrested by Bates City officers. The bus was returning from a district track meet in Holden.
JOHNSON COUNTY, MO – A vehicle accident involving an SUV and school bus Saturday evening caused several injuries.
According to Missouri Highway Patrol, none of the eight injuries reported were life threatening. Troopers say, a minivan collided with the bus approximately 7:25 p.m. Saturday at the intersection of 50 Highway and Route Z in northwest Johnson County. The bus reportedly belongs to the Grandview School District.  Law enforcement is currently seeking the driver of the minivan, who has fled on foot.
Look for updates.