UPDATE (2:54 p.m.) Lockdown has also been lifted at the U.S. Capitol. Capitol police shot a male suspect Monday afternoon following reports of gunfire at the Capitol Visitors Center. A female civilian bystander was injured by shrapnel, but no U.S. Capitol Police officers have been injured.
UPDATE (2:30 p.m.) White House is now out of lockdown after incident separate from U.S. Capitol.
UPDATE: Capitol officials say one Capitol police officer shot, although not seriously, and the shooter is in custody.
WASHINGTON– The U.S. Capitol Police told staff today in the Capitol complex to take shelter in place after a report of gunshots being fired in the Capitol Visitors Center.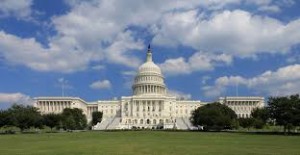 The White House also was put on lockdown because of the report.
The Associated Press reports the situation was contained to the Visitors Center.