UPDATE: 02/18/2016 at 2:59 a.m.: The Brookfield Police Department has released the names of the suspects after a search warrant was executed on West North Street late yesterday. According to the press release, among the items seized at 116 W. North Street, were 83 grams of methamphetamine, drug paraphernalia, three firearms, one of which was reported stolen and another had the serial number altered, and 904 rounds of ammunition.  Thomas Holloway, 54, and Todd Bowen, 45, each of Brookfield, have been charged with felony trafficking in the second degree, keeping a public nuisance, unlawful possession of a weapon, receiving stolen property and unlawful use of a weapon. Holloway and Bowen are currently being held at the Chariton County Jail in lieu of $25,000 cash only bond each. Brookfield officers were assisted by the Chillicothe Police Departments S.P.I.D.E.R. team.
BROOKFIELD, Mo–A release from the Chillicothe Police Department indicates the S.P.I.D.E.R. unit was called in to assist the Brookfield Police Department in serving a search warrant where there was possible use of narcotics, stolen property, illegal weapons, and dangerous individuals.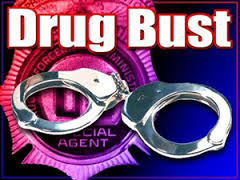 Major Hughes of the Brookfield P.D. released the following statement regarding the incident…
"At approximately 6 in the morning Brookfield Police Department along with the Chillicothe SPIDER unit executed a search warrant at an address which turned up a large amount of methamphetamine, stolen fire arms were also located at the residence. Four men were detained, 2 later released, the other two are awaiting formal charges."
Hughes stated a tip led law enforcement to investigate the situation, eventually resulting in the search warrant being issued.
During the drug bust, approximately 2.9 ounces of methamphetamine was seized.
Formal charges are expected to be filed later this afternoon.
Click play below to listen to KMZU's Ashley Johnson visit with Major Hughes about the incident: