BROOKFIELD, Mo. — A man is facing charges after officers with the Brookfield Police Department were called to a residence in the 500 block of Pettijohn Street for reports of a man threatening to kill himself.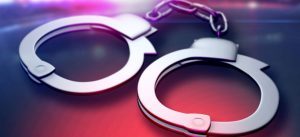 According to a probable cause statement filed in Linn County, law enforcement responded to the scene at about 10:27 p.m. on Monday, April 24.
Upon arrival, officers made contact with the property owners, who are the suspect's parents. They advised police that they were looking for their son, Jeffery William Lorton, 40, and that he had shot a gun with a clip in their home.
Officers were led to a bedroom in the home, where they reportedly observed a hole in the wall near a lamp on the west wall of the bedroom and a spent shell casing lying near the nightstand.
The officers were then advised that the suspect had allegedly ran out the back of the residence, however his direction of travel after leaving the home was unclear. It was also disclosed that Lorton was living with his girlfriend.
A K-9 unit was then deployed to assist with the search for the suspect. As they combed the area, the K-9 alerted the officers of an object in a grass field west of the residence. A black, .45 automatic handgun was secured by law enforcement and catalogued as evidence.
Police units were then advised that the subject had been located at a residence on Leclede Avenue in Brookfield and had been placed under arrest.
Lorton's mother reported to officers that she had been trying to get the gun away from her son when he allegedly pushed her back and said "this is what happens!" before firing the gun at the wall.
Lorton's girlfriend reportedly told officers that he was not trying to hurt himself and that he had a couple of drinks that night and that he had been down and depressed recently. When asked, she advised law enforcement that he was not trying to kill himself.
Officers transported Lorton to the Brookfield Police Department and booked him at about 1:05 a.m. Tuesday.
An law enforcement official asked Litton what happened that night, to which he allegedly responded, "you tell me."
The officer advised the suspect that he had not been there so he needed to explain the situation. He was informed about the initial call police responded to, and reportedly told officers he didn't know anything about the gun.
Upon his booking, it was discovered that Lorton was found guilty of a felony for property damage in August of 1998.
He is now charged with one felony count each of discharging a firearm in a habitable structure and unlawful possession of a firearm.
He was detained into the holding cells at the Brookfield Police Department for a 24-hour hold.