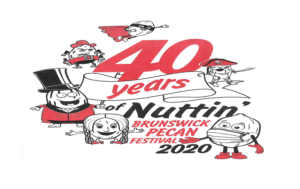 BRUNSWICK, Mo. — The quaint, rural town of Brunswick was officially declared The Pecan Capital of Missouri back in 1972 by Missouri Rep. Norwood Creason.  At present day, 48 years later, Brunswick's pecan trees continue to grow plentiful, still holding the title relevant.
As the annual Brunswick Pecan Festival — 40 Years of Nuttin' — kicks off Friday, Oct. 2, Brunswick Festival Committee member Patsy Allen details a little history of the town.
It's easy to know you've landed in Brunswick when you enter the area. The landmark, giant pecan greets newcomers and residents alike, right inside city limits. Patsy told KMZU it's a great photo op about the kitschy roadside attraction.
The milestone is known to locals as the biggest pecan in the United States, although some controversy does surround that claim. With a great sense of humor, coupled with contagious laughter, Patsy explains.
Allen has been involved with the Brunswick Pecan Festival Committee since it's inception. Forty years of dedication is not always an easy feat, but she gives a quick answer when asked what keeps her involved and returning each year.
Many scheduled events have been hit hard by the COVID-19 pandemic. Otherwise yearly functions have had to be scaled back, moved elsewhere or canceled entirely. KMZU's Stephanie Shannon asked Patsy Allen if the pandemic has negatively impacted this year's Pecan Festival.
Individuals who are returning to the Pecan Festival will see their usual favorites, as most of the festivities are held outside. As far as specific events go, Patsy is directly involved in one that many may not have heard of.
It's apparent that Allen is proud of the work her community does to pull off the Brunswick Pecan Festival each year. One of the highlights for Patsy is acknowledging new committee members, talking about how younger generations pick up where older ones leave off, and how the community still has about five major dealers of pecans in the area. In her words, attending the Pecan Festival "is like a homecoming to many who grew up around Brunswick" and she hopes to see a big turnout.
A complete rundown of events taking place in this year's Brunswick Pecan Festival can be found here.