MORGAN COUNTY, Mo. – A Versailles woman was treated and released at the scene after her horse and buggy were hit in Morgan County Saturday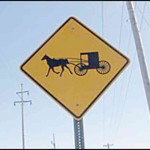 afternoon, September 26, 2015.
According the Missouri Highway Patrol report, the horse and buggy and a Chevy pickup driven by Timothy Woemmel, 31, of Jefferson City were eastbound on Route C, about 150 feet West of Gracey Creek Road, just after 5:00 p.m. Saturday when the buggy slowed to turn right and was struck in the rear by the pickup.
The operator of the buggy, Bertha Leinbach, 20, received treatment for moderate injuries.