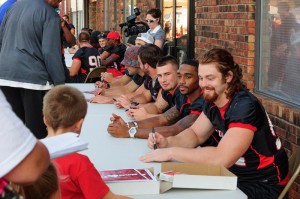 WARRENSBURG, Mo. — The 3rd Annual Burg Fest kicks off Friday afternoon in the downtown Warrensburg area.
The event was created to celebrate the past, present and future of Warrensburg. The festival is put together by Warrensburg Main Street and Big Brothers, Big Sisters of Johnson County. According to Executive Director of Big Brothers, Big Sisters, Stormy Taylor, several different events will draw residents from all over to the downtown area.
"We have our children's area … we have lots of inflatables for the kids," Taylor said. "[Friday] evening on the main stage we'll have bands that will be playing … we'll have vendors that are opening all afternoon. We have all kinds of craft vendors, we have food vendors, we have some that are commercial sales."
The event kicks off at 4:00 in the afternoon near the main stage area. Taylor said Burg Fest is a way for Big Brothers, Big Sisters to say thank you for the community support.
"We really appreciate the community support in our program and if it wasn't for volunteers and donors we wouldn't be able to be here," Taylor said. "So this is one way we can kind of give back and be a part of  – kind of giving back to our community. It's inviting people to see all the wonderful things that are going on in Warrensburg, not only on that weekend, but hopefully they come back to other events we have going on."
More information on the 2015 Burg Fest can be found by visiting TheBurgFest.org.