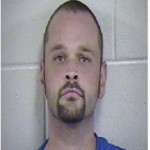 UPDATE (10/22/15)
10:49 a.m. — The man charged with burglary following an incident in 2013 is back in jail.
Michael Swatosh, 32, of Butler, was found guilty in 2014 of Burglary in the Second Degree, and sentenced to five years in prison, suspended pending the completion of a two year probationary period. Swatosh also served a 120 day shock incarceration period.
According to court documents, Swatosh's suspended sentence was revoked when he violated probation terms. As of June 18th, Swatosh's sentence was executed by the court, mandating he serve at least 16 months of his five year incarceration.
Swatosh was originally charged with a second suspect following a home burglary in Oak Grove on October 3, 2013. Since, the charges on the second suspect have been dropped.
Original Information Released October 3rd, 2013:
Today, at approximately 4 PM, the sheriff's office received a call on a burglary in progress. The location of the incident was in the 40200 block of E. Campbell Road north of Oak Grove, Missouri.
The suspects were reportedly seen burglarizing the home and confronted by a relative of the homeowner. According to the witness, as the suspects were leaving, they attempted to run him over. He then shot toward the suspects.
A deputy was near I-70 and M–291 when he observed the suspect vehicle heading north on M-291.  After a short pursuit, the deputy was able to take the male suspect into custody.
At the same time, sheriff's deputies received information a female had been dropped off at a local hospital with a gunshot wound.
We have been able to confirm the female was involved in the burglary. Therefore, both suspects are in custody.  The male was not injured.