UPDATE: (03/31/18, 6:40 p.m.) – The Missouri Highway Patrol says the westbound lanes of Interstate 70, East of Odessa in Lafayette County, are back open to traffic. The remains of a burnout pickup have been removed and traffic is slowly beginning to move past the 38.8 mile marker.
LAFAYETTE COUNTY, Mo. – A KMZU listener called at 6:00 p.m., this evening, to report that a burning truck in the median, has westbound Interstate 70 closed, East of Odessa.
According to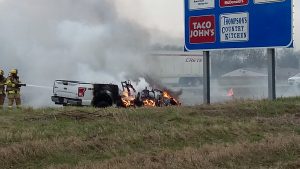 the listener, a Ford pickup is burning near the 38.8 mile marker, and emergency vehicles have the westbound lanes of the highway stopped. Traffic is already backed up past the Lexington-Mayview exit and may well be backed up to the weigh stations.
The caller recommended that drivers get off at either of those exits and take the outer road around the traffic jam.