CAMDEN COUNTY, Mo. – The Camden County Sheriff's Department says the public was helpful after being asked for assistance in locating a wanted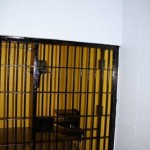 man.
The Sheriff's Office said that Duffy Dean Woodman, 50, was arrested after he turned himself into the Republic Police Department around 2:00 p.m. Saturday. Woodman is currently being held at the Greene County Jail on felony warrants for two counts of first degree statutory sodomy, two counts of first degree child molestation and a count of first degree possession of child pornography. Woodman's girlfriend, Misty Rae Ann Obermak was arrested Thursday for tampering with a victim and first degree child endangerment.
She is free after posting $20,000 bond and has a court hearing on February 23.