DEKALB COUNTY, Mo. – A Cameron driver was hospitalized after a one vehicle accident in Dekalb County early Wednesday.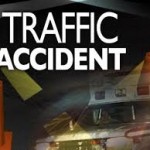 According to the Missouri State Highway Patrol, the accident occurred just before 4:00 a.m. on eastbound Highway 36, three miles West of Stewartsville when a vehicle driven by Joseph Smith, 32, ran off the North side of the roadway. The vehicle struck an embankment and overturned across the roadway and came to rest on it's top off the South side of the road.
Smith was transported to Cameron Regional Medical Center with moderate injuries.