CAMERON, Mo., — After the murder of his cell mate in May, an inmate at the Crossroads Correctional Center in Cameron has been charged with second degree murder.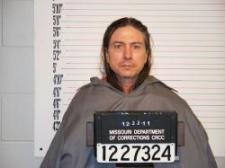 According to a probable cause statement, a correctional officer found Timothy Adams, 49, who had been serving a life sentence for accessory to murder, was discovered at 11:51 a.m. lying unresponsive on the floor. Adams had an appliance cord wrapped around his neck and a visible shoe print pattern on his face.
The shoe print was compatible with the shoe recovered from Eddie Marshall, 55, who is serving a life sentence without parole for first degree murder, was Adams' cell mate at the time and was observed to be with Adams in the cell from 11:29 when a physical head count was done until 11:51 a.m. when he exited the cell and told a correctional officer Adams was dead. No officer or offender entered or exited the cell at that time and the cell was clocked and secured.
The Jackson County Medical examiner determined Adams' cause of death was blunt force trauma to the head and neck.
An arraignment has been scheduled for January 17, 2017 at the DeKalb County Courthouse.