MARSHALL, Mo. — Political signs are being vandalized in Marshall, according to local authorities.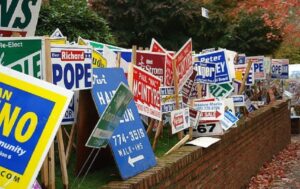 Marshall police state in a news release that they received calls of people damaging political signs in the area of East Gordon Street in the early morning hours of Wednesday.
Three have been arrested in connection with the incident. Vandalism of campaign signs is a class four election offense which could lead to a fine or even jail time.
Police did not immediately release names of the individuals arrested.