Update: 05/12/15 @ 2 p.m.- A missing Capuchin Monkey named Harley was found safe today after a concerned citizen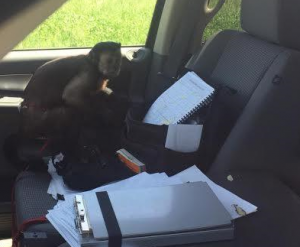 called in a possible sighting of the little guy. Deputy Chris Mueller responded and found the Capuchin. The monkey then eventually jumped in Muellers' patrol truck to be taken home. The owner as well as the Sheriff's Department relayed their appreciation to the citizens for their help in locating the exotic pet. In a release, Sheriff Cox stated that he and his deputies are, "happy this guy made it home safe!"
The Livingston County Sheriffs Department has issued an animal control alert for a Capuchin Monkey.
In a press release, Sheriff Steve Cox stated the monkey was last seen yesterday, May 10th near Liv 2313 and Liv 2316. The 6 year old Capuchin is reported to be a pet and the owner stated the pet monkey will be wearing a leash and is very friendly and tame.
Sheriff Cox noted that any exotic pet can be dangerous. If you see the monkey you are encouraged to call the 24-hour dispatch line at 660-646-2121.