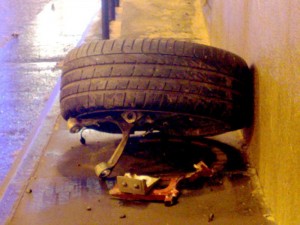 CLAY COUNTY, Mo – An accident on I-35 Sunday evening, September 6, 2015 occurred as one vehicle lost a wheel in a collision.
An accident report by the Missouri Highway Patrol states that a vehicle driven by Stazia Jones, 24, of Kansas City was traveling south when it was struck by another southbound vehicle driven by Irene Nichols, 51, also of Kansas City.  One of the wheels of Jones' vehicle was hit causing it to veer off the roadway.  After the wheel came off, the vehicle meandered on the left side of the road before finally hitting a concrete barrier.
A passenger with Nichols, Jacob Punshon, 36, was the only injury reported.  His minor injuries were treated at North Kansas City Hospital.  All persons involved were wearing safety devices.