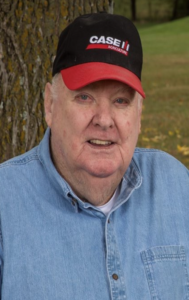 A Bates City resident, 78-year-old Carl Duane Campbell died Thursday, July 30, at his home.
Visitation will be held from 10 to 11 a.m. on Saturday, August 1, at Bates City Baptist Church. A funeral service will follow at 11 a.m. at the church. Burial will be at the Concord Cemetery in Bates City. Memorials are suggested to the church, Concord Cemetery or Phoenix Hospice. Arrangements have been entrusted to Ralph O. Jones Funeral Home in Odessa. Memories of Carl and condolences for his family may be left on the Ledford Family Funeral Home website or on their Facebook page.
Carl was born on April 6, 1942 in Independence, MO to Carl and Willa Belle (Christy) Campbell. After graduating from Odessa High School in 1960, he was united in marriage to Shirley Elaine (Raynes) on May 26, 1961 in Bates City, MO. Carl loved farming, watching his grandkids in their sports, and morning coffee with friends.
In addition to his wife, Shirley, survivors include one daughter, Janet Alumbaugh and husband Mike of Odessa, MO; four grandchildren, Nathan Campbell and wife Kyleigh of Oak Grove, MO, Julee Cambell of Wellington, MO, Brandon Alumbaugh and wife Taylor of Bates City, MO and Brent Alumbaugh of Odessa, MO; and two brothers, Gary Campbell and wife Diann of Odessa, MO, and Rick Campbell of North Carolina.
Carl was preceded in death by his parents and one son, Michael Ray Campbell.
Pallbearers will be Brandon Alumbaugh, Brent Alumbaugh, David Curtis, Kevin Raynes, Jeff Winfrey and Roger Kratz.