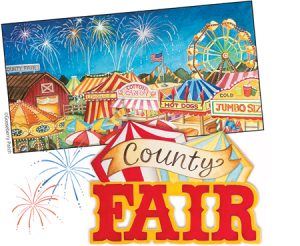 BOONVILLE and CARROLLTON, Mo. – COVID-19 has forced the cancellations of numerous fairs and festivals. But the show will go on, in part, for youth exhibits, shows and livestock sales.
In Boonville, youth shows and competitions (age 21 and younger) will take place July 18-24 at the Cooper County Fairgrounds. To comply with 4-H social distancing requirements, groups are limited to 50 or less people for 4-H events. Shows and competitions will not be open to the public, but individuals may view them on social media. Organizers plan to have a mix of in-person and online bidding to comply with social distancing guidelines for its livestock sale. Additional details will be provided at a later date (see schedule below).
Two fundraisers for the fair will also continue this year. Fireworks will be for sale from June 20 to July 4 inside the Cooper County Fairgrounds exhibit building, 16899 Dunkles Dr. The fair's annual barbecue dinner will be a drive-through affair. Pulled pork with side dishes will be available curbside outside the fairground exhibit building from 4 to 7 p .m. on Saturday, June 27. Proceeds will partly go toward premiums, according to Daneal Gerke, Cooper County 4-H Youth Program Associate.
"It's been a very challenging time for our members, but they have done a fantastic job," Gerke told KMZU. "They continue to be that 4-Her who works on leadership and citizenship, and it has been fantastic to watch them work on their projects and try different things. They are taking that step out the box. I've been very proud of members in Cooper County," she said.
And just a couple of days earlier, Carroll County 4-H and FFA members will get to compete with their livestock and projects (Carroll County schedule at bottom). An abbreviated fair is set for July 8-10 at the Carroll County Fairgrounds in Carrollton. The county's cattlemen's association will host its annual Beef and Pork Palace beer garden July 9-11. Organizers say they will follow state guidelines for COVID-19, as well as provide hand-washing stations. The event may also have curbside service.
COOPER COUNTY SCHEDULE OF EVENTS
SATURDAY, July 18, 2020
Entry 2 p.m.~ 4-H/FFA Horse Show ~Competition 3 p.m., Pavilion
SUNDAY, July 19
FFA Projects: Drop off entries from noon to 2 p.m., West main building door
Ham/Bacon: Entries accepted from noon to 3 p.m., East main building door
MONDAY. July 20
Ham/Bacon: Judging begins at 8 a.m.
Building Projects: Drop off entries from 5 to 7:30 p.m. (No conference judging)
TUESDAY, July 21
Project judging: Main Building
Hams released 9 a.m. to 2 p.m. except hams to sell
Entry 7-9 a.m. for Dairy Goats Show, begins at 9:30 a.m.. dairy goat barn
Entry and weigh-in 7 to 8 a.ms for  Sheep Show/Goats, show at 9 a.m., Pavilion
Entry 9-10 a.m., Poultry/Fowl, Blood test begins at 10 a.m., show at 1 p.m., north barn
WEDNESDAY, July 22
10 a.m. to 4 p.m.:  Exhibits on display, Main Building
Entry 8-10 a.m. for Rabbits/Guinea Pigs, show at 1 p.m., rabbit barn
Entry and weigh-in 6-8 a.m. for  Swine, show at 9 a.m.. Pavilion
THURSDAY, July 23
10 a.m. to 4 p.m.:  Exhibits on display, Main Building
Project pick-up: Noon to 6 p.m.
Entry and weigh-in 6-8 a.m. for Steer, show at 9 a.m.
Entry 7-7:30 a.m. Show 8 a.m. Bucket Calf, Dairy, Show 9 a.m. Steers followed by Breeding Beef,  Pavilion
FRIDAY July 24, 2020
7 p.m.: Online and in-person 4-H & FFA Livestock Premium Sale
CARROLL COUNTY YOUTH LIVESTOCK SHOW SCHEDULE
WEDNESDAY, July 8
7:30—8:30 a.m. GOATS & SHEEP – Registration/Weigh-in
8:30 a.m. All goats and sheep must be on the grounds and checked in
9 a.m. Goat Show—Sheep Show follows
4:45—5:45 p.m. POULTRY & RABBIT-Registration
6 p.m. Poultry and Rabbit Show
THURSDAY, July 9
7:30—8:30 a.m. SWINE– Registration/Weigh-in
8:30 a.m. All swine must be on grounds and checked in
9  a.m. Swine Show
2-3 p.m. HAM – Registration at Beef & Pork Palace
3 p.m. Ham Show— Beef & Pork Palace
6:30 p.m. Ham Sale at Beef & Pork Palace
FRIDAY, July 10
8—9 a.m. CATTLE/BUCKET CALF/Weigh-in
9 a.m. All cattle must be on grounds and checked-in
10 a.m. Bucket Calf Show
Dairy Show, Breeding Cattle Show, Market Show
All will follow the Bucket Calf Show
6 p.m. Livestock Sale – Blue Ribbon Animals only