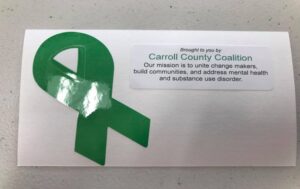 CARROLLTON — The Carroll County Coalition will host its first Suicide and Recovery Awareness Walk in September. For anyone unfamiliar with the Carroll County Coalition Misty Williams, who works as a social worker and case manager, explains what it is.
Williams says the event is important because area suicides have had an impact on the community.
The walk will last an hour, but does include more than just a coming-together of individuals. Williams talks about what to expect that evening.
Suicide and recovery are two subjects that are very close to Williams' heart. She believes in an open book policy when discussing either topic with the hope that she can help others who struggle with either, or both.
Williams goes on to explain why she thinks the Suicide and Recovery Awareness Walk will benefit anyone who chooses to attend.
The walk is not only planned to bring awareness and support to the community, but to also provide attendees some education in suicide and recovery.
Removing the stigma that once surrounded suicide and recovery is one of the Carroll County Coalition's goals when hosting events like the upcoming walk. In the ongoing effort to honor those who have been lost by suicide, as well as those who are in recovery, Williams says the coalition is encouraging pictures and posters at the event.
For anyone who may currently be feeling suicidal, Williams has this to say.
Again, the Carroll County Coalition Suicide and Recovery Awareness Walk will take place at 5:30 p.m. at Carroll County Memorial Hospital's 4 Corners Cafe on Saturday, September 18. Because the event is scheduled to take place outside, masks will not be mandated. Social distancing will be observed for the safety of all involved. More information about the walk, as well how to donate to the Carroll County Coalition, can be found here.