CARROLLTON, Mo. — The Carroll County Historical Museum received a $2,000 grant this morning from MFA.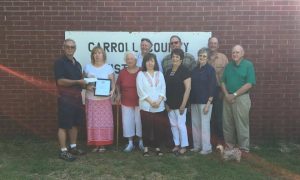 The grant, along with a $100,000 grant that was bestowed upon the museum earlier this summer from the Gopert Foundation, will go towards making improvements to the museum building.
Included in these improvements are better heating and cooling systems to preserve the artifacts showcased as well as making the building Americans with Disabilities Act (ADA) compliant.
President of the Carroll County Historical Society, Richard Woodward, explains more about the upcoming improvements to the museum:
The museum houses land grants dating back to the 1800s up to relics from the 1950s. The objects displayed in the museum come from all over Carroll County.