CARROLLTON, Mo. — Carroll County Memorial Hospital is announcing measures to protect the health of patients, visitors and staff in the facility and the community against the coronavirus.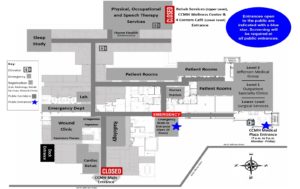 Measures implemented will begin Monday, March 16.
They include:
Consolidating entry points at the hospital and requiring that all patients and visitors are screened prior to entry, per the CDC guidelines.
·         Based on each individual screening outcome, appropriate protocols will be implemented.
·         Temporarily closing 4 Corners Café to the public
·         Temporarily suspending community access to the Wellness Center and Pool
·         Temporarily suspending Care Connection services held at CCMH
·         Canceling and rescheduling some community events and classes.
·         Visitors to CCMH will encounter signage to help them navigate through the facility and greeters who will assist in navigation.
CCMH has limited access to the main hospital through two entry points. Anyone coming into the hospital will need to enter through the Emergency Walk-in Entrance, open 24/7, or the CCMH Medical Plaza Entrance, from 7 a.m. to 5 p.m. Monday through Friday.
Entrance to the Jefferson Medical Pavilion will be limited to the Jefferson Street entrance only. All patients entering the facility will need to pre-screen.
If patients are experiencing any symptoms of illness, they will be asked to wear a mask and seek treatment, if necessary.