CARROLL COUNTY, Mo. – Following the announcement by Auditor Galloway's office Thursday morning, KMZU's Mike Stone reached out and spoke to Carroll County Clerk Peggy McGaugh about the county receiving the first excellent rating for any Mo. Government entity since the rating system was established in 2011. Click below: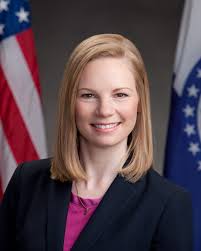 JEFFERSON CITY, Mo, —  Missouri State Auditor Nicole Galloway today issued the first ever excellent rating awarded to a county government. The audit was issued to Carroll County. An excellent rating is the rarest rating issued, with only about 5% of all audited entities receiving the rating, and no counties having received it since the ratings system was established in 2011.
"My office has issued more than 100 audits so far this year, and this is only the third audit we've released with no findings or concerns identified," Auditor Galloway said. "Government at all levels must be accountable to the people they serve and I'm pleased to see the dedication and commitment local leaders in Carroll County have shown to running an efficient, effective and accountable government organization."
Performance audits receive a rating on a scale of excellent, good, fair and poor. The determination is made based on the scope and severity of findings. In order to receive an excellent rating, the State Auditor's Office must find the entity is well managed, with no findings identified in the report.
Past excellent audits have been issued by Auditor Galloway to the Salem License Office in Dent County and the Missouri State Treasurer's Office this year, and to the Veteran's Capital Improvement Trust Fund, the Department of Economic Development's Office of the Public Counsel and the Missouri Gaming Commission in 2015.
A complete copy of the Carroll County audit report is available online here.