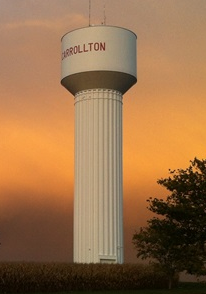 CARROLLTON, MO – The aldermen of Carrollton met for the first March meeting, Monday in City Hall.
Discussions regarding the Rupe Center were regarding CD renewal bids.  Possible future interest rate activity induced council to consider a bid from Carroll County Trust at 1.25% through 12 months.
As street crews are expecting to become more active with the warmer weather.  Street overlay projects may be commencing in the near future on major roadways including Main and Mason Streets.  With limited funding, smaller projects may be delayed.  The board approved seeking bids for the work.
The city also entered into contracts for the purchase of equipment for the fire department.
Sharon Metz, with the Carrollton Area Economic Alliance, spoke at the meeting regarding potential action to be taken in preparation for a full eclipse of the sun in August.  According to Metz, Carrollton is being considered a prime location for observation of the phenomenon.  Weekend activities preceding the eclipse are being planned, as well as publicity efforts.  The task group is in search of a slogan for the event, and announced a contest to come up with ideas.