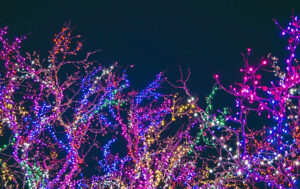 CARROLLTON — Parade-goers won't have to stand in the cold this Friday, Nov. 27, to see Carroll County's Christmas Light parade. They can view it from the comfort of their cars by driving through Carrollton Recreation Park.
"Due to public health concerns, we decided to do a drive-by parade. It's called a reverse parade. The floats will be parked and people will drive the lighted park to view the floats," Carroll County Chamber of Commerce Director Anna Barlow says.
St. Nick will be on hand in his Santa house where kids can drop their letters nearby in a mailbox. However, parents and children are asked to visit with Santa in their cars, Barlow says.
Motorists are asked to enter the park through its 6th Street entrance. The parade is from 6 to 7 p.m. with Santa visits from 7 to 9 p.m.
The day after Black Friday is typically known for shopping local. The chamber is kicking off its "Small Business Season" campaign on Saturday, Nov. 28, that'll provide incentives to shop at locally-owned Carrollton area stores.
"We are doing a shop hop, a support local campaign," Barlow says. "It'll run until Dec. 12, and we had 23 participating businesses."
The annual vendor fair won't be in person, due to concerns of the spread of COVID-19 . However, that doesn't mean it's canceled, but instead is going virtual.
"We're doing an online vendor fair. Any direct sales vendors that would like to participate can send us information and then we'll post that information on our Facebook page," she says.
Information on the chamber's page will allow shoppers to work directly with vendors, she says.