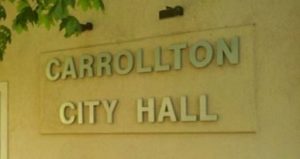 CARROLLTON – Confronting concerns over commercial building codes and permit fees was the main topic of discussion at the Carrollton City Council meeting Monday night.
The conversation stemmed from an ordinance that was passed on Sept. 8 that amended the prices of commercial building permits. Per this ordinance, building permit fees for smaller projects with a construction cost ranging anywhere from $1 to $40,000 can cost anywhere from $20 to $50. After that is where more starts to add up. Starting at the $40,001 to $100,000 range, the cost is $50 for the first $40,000 then $9 for each $1,000 going up to and including $100,000. The maximum fees are $17,890 increasing by one dollar for anything over $5 million. The ordinance also states that third party building code inspections are required for all projects with construction costs of $500,000 or more. Paying for such an inspection is the responsibility of the business owner.
Carroll County Presiding Commissioner Stan Falke, Carroll County Chamber of Commerce Director Anna Barlow and Goldstone Consulting Group Managing Director David Gaines were the officials in attendance who were interested in engaging with the topic. Although Barlow and Falke expressed that they both felt there wasn't much input from the county or other entities when the ordinance was passed, both took full responsibility for the lack of communication and involvement on their ends.
Speaking first, Falke encouraged the council to localize the inspection process. The inspection firm that the city utilizes is based in Springfield. Falke, centering the point around the Carrollton theater, says that to better understand what the people of a smaller community need, a local inspector should be utilized.
"When we look at the respective geographic of make ups of the two counties, Green County and Carroll County, Green County has a population of about 300,000. Carroll County's population is about 8,600." Falke says.  "I encourage you to bring that process back to the Carrollton theater and give Carrollton flavor as we go through this inspection process."
Falke said that he thinks the fees for larger projects are high and could deter some businesses from coming to Carrollton. He brought up his conversations with local business owners to highlight some of their thoughts on the fees and the overall process of trying to establish a business in the area.
"I understand user fees and I think they're great," Falke says, "But I think to make this an appropriate user fee we have to define what's the cost of the service to the city. What's the cost of the service its providing to the citizens, is that service necessary and are we just paying for that service with our fees."
Barlow showed up to the meeting to understand how the fees will affect businesses and economic growth and used this time to become more educated about the topic.
"At a chamber standpoint we work diligently to get business, work on our economic development program, so I wanted to learn more about it and be more involved in the process to understand what it will look like and what the possibilities are," Barlow says. "We have businesses wanting to come to town- what wiggle room do we have; what does that look like?"
Gaines wants the council to think more on a larger scale and rather than compare the fees to surrounding counties, start to consider a role as a competitor to not only the northwestern Missouri market, but bordering states.
"Often times when companies are looking at investment in Missouri, they're also looking at Kansas, Iowa, Illinois, Arkansas and some of those other states that a few hundred miles left or right doesn't really matter as long as they can build a business that's welcome," Gaines says. "On that standpoint you want to be sure that you're competitive on a larger scale than just counties within a one- or two-hour drive."
After hearing outside input, the council moved into further discussion on the matter. Although nothing was officially voted on regarding this topic, it is something that the council agreed to put more thought into and consider the opinions they heard before officially making any revisions.