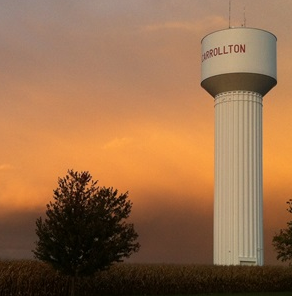 CARROLLTON, MO – A lengthy meeting of the Carrollton city council Monday evening touched upon several items of new business.
As Council members deal with a tight budget, ways to cut costs are being considered.  Council members are awaiting a contract with Chillicothe Correctional Facility, to employ inmates for work within the city limits.  The labor force would be used for mowing, weed eating, and cleanup.  Mayor Pro Tempore, Scarlet Horine, stated the labor is cheap at $7.50 per person, per day.

Councilmember Bartlett stated however, the council had no desire to deprive work opportunities from other parties.
Although use of the inmate force is considered low-risk, supervision is still required.  Several city officials are interested in the training offered to participate in the program.  At a council meeting yesterday, Carrollton city officials decided to keep the option on the table.
Discussion was taken up pertaining to complaints of traffic at the intersection of 1st and Folger.  The intersection located at the post office is plagued by visual obstructions according to most council members.  Several persons at the meeting shared personal experiences of vehicle accidents, or close scrapes at the intersection.  The street department and police department have been given authority to mark the intersection as a 4-way stop, and enforce, accordingly.  Crosswalks are also being considered, as well as the elimination of certain parking spaces in the area.
The paving of Main, Mason, and Jefferson streets is scheduled to begin near the end of May.  A change order was approved to spend extra for the paving of the entire length of Jefferson.
As city officials contemplate bringing a tax issue to voters, time may be running out to make preparations.  A renewal of a previously existing quarter cent tax failed in the April election, leading to a tremendous loss of expected revenue.  The city council had to weigh the cost of a special election, with the continued lack of funding for street repair.
Council abstained from moving the vote to November.  For now, the quarter-to-half-cent sales tax will be presented in a special August election.    Council members blamed a lack of voter education for the failure of the tax issue.