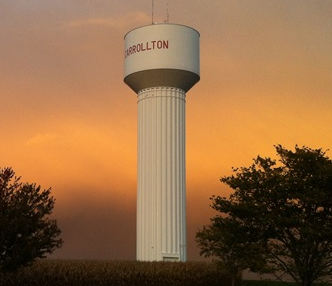 CARROLLTON, MO – A meeting of the Carrollton City Council was presented with an assessment of the city sewer system Monday.
City officials may be seeking a financial path forward after a presentation of a Closed Circuit Television Inspection Assessment of the sanitary sewer system which showed sewer mains and manholes in the greatest need of repair or replacement.  The recent re-paving of city streets may also be threatened in the long term by deteriorating pipes that run underneath the pavement.  Bartlett and West conducted the assessment.  A high-end estimate to fix the most pressing matters, a majority of which were located in the southeast quadrant of the city, could run $889,000.  The council has yet to determine what actions should be taken in response to the study.
An audit conducted by Westbrook and Company was tasked with reviewing financial records of the city that were at the most risk of being inaccurate.  The opinion of auditors was that city financial records were, on the whole, fairly stated.  Audit manager, Rita Russell, said improvements were found in records of Carrollton Municipal Utilities compared with earlier audits.  Recommendations made by auditors included steps toward error prevention, and more secure file backup location.
Bids for demolition were reviewed by board members.  Council accepted a bid that would demolish properties at 511 Waters, and 202 S. Folger due to safety concerns.
Council could not move into a scheduled closed session after one member had to remove themselves from the meeting.  Another council member had been absent from the entire proceedings.  Without quorum, the members present decided to schedule a special session later in the week, with the intent to complete the business remaining on the agenda.