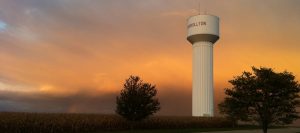 CARROLLTON, MO – The City Council of Carrollton met Monday evening in council chambers for their first regular session of February.
A significant portion of the meeting was devoted to discussions regarding potential financial solutions for city water storage tanks.  According to Clint Mathis, speaking for Municipal Utilities, several water storage facilities are in need of renovation.  Council members heard from a representative of Utility Services Group who presented a multi-year plan for the continued maintenance of water storage tanks.
Approval was given to members of the Utilities Department to work out details in a contract for later presentation to the City Council.
Representing the area Economic Alliance, Sharon Metz made an appearance before the board, reminding members of the recent business influx into Carrollton.  Metz indicated 13 new businesses had opened up in the city.  The city's role in a potential Amtrak stop along the Burlington Northern Rail was revisited.  Metz detailed the current status of the project.  Conceptual drawings of a potential train station were submitted to Amtrak and BNSF for review.  Metz said Carrollton received a positive response from Amtrak.  Still pending, is approval by Burlington Northern for the proposed stop.
An ordinance was passed to allow Mayor, Brian Mathis, to enter into a contract to establish the price of fuel to be purchased by the city.  The only bid submission was from MFA, and was passed over temporarily due to current fuel prices.  The Mayor's potential ability to enter into a contract within the span of a single day in order to 'lock in' a contract price, was considered advantageous.
The Council entered into a closed session after the regular meeting was adjourned.