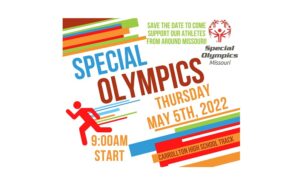 UPDATE, 5/3/2022 – According to Carroll County Chamber of Commerce Director Anna Barlow, the Special Olympics has been postponed due to the wet weather forecast for Thursday, as of Tuesday afternoon. A smaller indoor event will be hosted instead that day. There are hopes to have another outdoor event in the fall. 
CARROLLTON — In the interest of the ongoing effort to promote awareness, health and inclusivity, the Carrollton School District will host its first annual Special Olympics event Thursday, May 5, at the Carrollton High School track. Amberly Harper, Director of Special Services for the school district, explains how thoughts of bringing the event to the area got started.
The Special Olympics is a huge event for the small town of Carrollton. Harper says several area athletes will be participating in numerous categories.
Like many others involved with the event, it's near and dear to Harper's heart for personal reasons.
Harper says the Carrollton School District, family, friends and neighbors have shown tremendous support for the Special Olympics.
The local Booster Club will have concessions available, as well as a limited amount of shirts that may be purchased during the games. Harper stresses awareness is key and anything local businesses or individuals would like to do to promote the event would be greatly appreciated.
Opening ceremonies for the Special Olympics start at 9 a.m. with games beginning around 9:30 a.m. Thursday, May 5, at the Carrollton High School track. The games are estimated to run until around 1 p.m. The public is invited and encouraged to cheer all of the athletes.
More information about Missouri Special Olympics, click here.