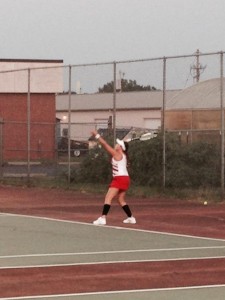 CARROLLTON, Mo.- Yesterday the Carrollton High School Lady Trojans tennis team added their first victory of the season against the Lexington High School Minutewomean. The Lady Trojans are now 1-1 on the season after a loss to Trenton last week. To finish out this week they play at Higginsville tonight, Richmond Varsity tournament Wednesday and host Knob Noster on Thursday.
Results:
Individual Winners:
1. Samantha Barry (#1) 8 games vs Mikaylin Turner 3 games
2. Cierra Famuliner (#4) 8 games vs Clarisa Caldwell 4 games
3. Elizabeth Henks (#5) 8 games vs Sydney Lautenscholager 0 games (forfeit)
4. Andrea Lock (#6) 4 games vs Ashley Menard 2 games (forfeit for illness)
5. #2 Doubles team- Kara Berrey/Famuliner 9 games vs Caldwell/Caldwell 7 games
6. #3 Doubles team- Henks/Gaby Thorne 8 games vs Lautenschlager/Menard 5 games.