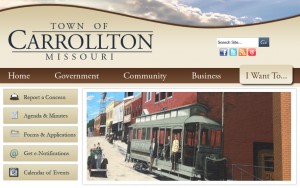 Carrollton residents seeking information on city services and events now have a new place to find that information.  The city has launched a redesigned website.  Assistant City Administrator Terry Bell said email notifications are just one of many features.  Click to hear Bell:
The website includes:
Links to council agendas and minutes.
Registration for e-alert notifications on snow emergencies, street closures and water issues.
A link to city forms and applications.
A calendar of events.
News and announcements.
Demographic reports.
Maps where residents can view their trash-pickup schedule.
Links to community organizations.
A place to report problems and concerns 24/7.