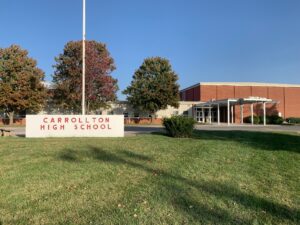 CARROLLTON — The second case of COVID-19 in the Carrollton school district was announced to the public on Monday.
Through a news release, Superintendent Danny DeWitt announced that a student had tested positive for the coronavirus and promptly began helping the Carroll County Health Department with contact tracing. Any students and staff who have been identified as a close contact will be contacted by the health department. This is only the second case the district has seen; the first was reported on Oct. 2.
According to the release, additional sanitization measures will be taken in specific areas of the school. At this time there is no need for any classrooms or buildings to close.