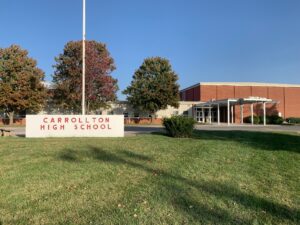 CARROLLTON — A special school board meeting was held Wednesday night to discuss the current state of COVID-19 in the Carrollton school district and where to go from here.
Due to growing number of students and staff who are either testing positive or in quarantine as a close contact, the upcoming Thanksgiving break was modified to include Nov. 23 and 24 to have a full week off rather than just five days. The following week will move to virtual learning. The goal is for students to return to on-site learning on Dec. 7.
According to DeWitt's report at the board meeting, there are 100 students in grades kindergarten through 12 who are in quarantine. There are around 14 positive cases among students, with the same number possibly among teachers as well. DeWitt included there are around 20 potential cases throughout the district as well. With this, although he says the district is covered for the last couple of days before the break, the number of potential cases and those in quarantine is spreading both teachers and substitutes thin.
"We're to a maximum of our subs being stretched to the limit," DeWitt says. "At this point we're covering with other staff members and pulling double duty with instructional coaches and I think even administrators. I think we get to a certain point we have to ask ourselves what quality of education are we giving our kids with putting the additional stress and the double duty on teachers and 14 substitute teachers, and would we be better off for a short period of time maybe trying to transition to virtual."
Food services will be provided from the school during the week of Nov. 30. The situation will be evaluated as it goes on to determine if extending the distance learning period is necessary.