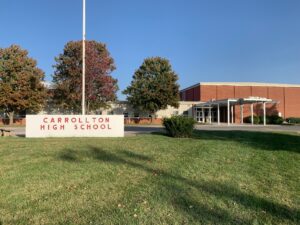 CARROLLTON — As Carrollton schools move to virtual learning next week, pick-up meal services will be offered at Carrollton Elementary School.
During the week of Nov. 30 – Dec. 4, grab-and-go meals will be available for pickup from 11 a.m. to 1 p.m. on Monday, Wednesday and Friday. Meals will be distributed at the east doors of the elementary school facing the circle drive. Meals are available to all kids in the community ages 0 to 18 and you can designate anyone to pick up these meals for your child.
Breakfast and lunch will be served together, with the current day lunch and next day's breakfast. In addition to the meal pick up, the school district will be partnering with the Carroll County Area YMCA to prepare healthy snacks to include with the grab-and-go lunches.