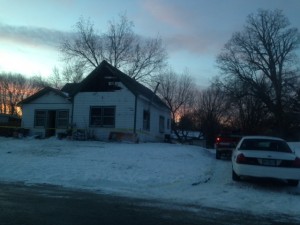 Update (8:50 a.m.) – Fire crews in Carrollton responded to a blaze on West Benton Street after receiving the call at 3:53 Saturday morning. Captain Lonnie Sensenich reports the flames burnt the back part of the house, part of the kitchen, and affected the attic. Nobody was injured. The cause remains under investigation.
Update (7:45) – Emergency crews responded to a Carrollton fire early Saturday morning. The blaze on West Benton Street has been extinguished at this time. The extent of damage and the status of any injuries has not been released at this time. We will bring you more information as it becomes available.
Original Story:
Emergency crews are responding to a structure fire in Carrollton. The blaze is located in the 500 block of West Benton Street. Both lanes of traffic are currently blocked by equipment.
Listeners are encouraged to avoid the area. The extent of damage and injuries is not currently known.