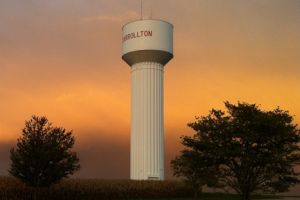 CARROLLTON, MO – The City of Carrollton held a regular session council meeting Monday evening that included multiple new business items.
The audit report covering 2017 was described as "clean" by auditors.  However, suggestions were given to council members to look into the possibility of raising rates for wastewater, as expenses are outpacing revenue.
Carroll County Commissioners are interested to hear propositions for cooperation with the city of Carrollton on maintenance expenses for the Carrollton park. Park board representatives say, among other items, the city pool must be replaced. A massive leak is reportedly costing approximately 17 gallons of water per minute. That equates to roughly 2.5 million gallons over one season. City officials believe that loss has led to $25,000 in fiscal losses for municipal utilities. The current solution being considered is a hike in sales tax. Council members indicated there may not be a city pool next year, regardless of how city leaders proceed. According to the park board, the solution is either a new pool, or no pool.
An ordinance was passed authorizing the Mayor to enter into an agreement to allow a contractor to place a crack seal coating around the square.
A bid was accepted to enter into a contract for the destruction of properties at 202 S. Locust, and 513 W. Benton.