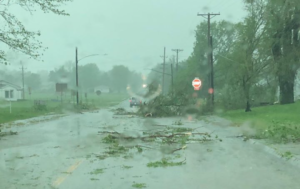 Heavy rains and gusty winds caused downed power lines and tree damage in much of the area earlier today. More severe weather hit Garden City in Cass County, with strong winds blowing over 3 semis on Highway 7.
"We had high winds and isolated areas in the county (with) power lines down and high water. And hail with piles of hail on the road. We had three semi trucks on State Route 7 that were blown over on their sides," Cass County Sheriff Jeff Weber said of the microburst that went through the town.
"Garden City is primarily where we we had the damage. It seems like (it had) most of the high wind. The leaflets coming out of the trees from the high winds were just pasted to the road in severe weather like that. It was substantial and it was pretty much isolated to that area," he said.