CASS COUNTY, Mo. – A Peculiar driver was hospitalized after a two vehicle crash in Cass County Wednesday evening.
According to the Missouri State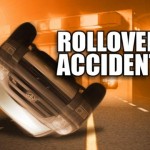 Highway Patrol, a southbound vehicle driven by Benjamin Blevins, 18, of Peculiar was struck by a southbound vehicle on Interstate 49, North of Peculiar, that was changing lanes. Blevins and the vehicle driven by Larry Teter, 70, of Peculiar, ran off the left side of the road and both hit the cable barrier before overturning.
Blevins was transported to St. Lukes Hospital with moderate injuries.