CASS COUNTY, Mo. – The Missouri Highway Patrol investigated a fatal motorcycle accident in Cass County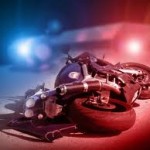 Saturday night.
According to the crash report, a westbound Harley Davidson on Highway 2, West of South Brush College Road, traveled off the right side of the highway, struck a sign and a concrete culvert before overturning. The rider, Donald R. Lunsford, 54, of Freeman, was ejected from the motorcycle and pronounced dead at the scene.
The body has been delivered to the Jackson County Medical Examiners Office.