MISSOURI– With Spring fishing season around the corner, anglers all over Missouri are preparing to head out on the water.
However, the invasive carp species that inhabit local waterways may pose a challenge to fishermen looking to catch native fish species.
KMZU's Dan Watson spoke with Chelsea Clever, the Angler Education Assistant of the Northeast Region with the Missouri Department of Conservation, about the multiple species of carp, any potential risks when fishing for carp and tips for increasing your chances of landing one.
Click below to hear their conversation. which aired Tuesday on KMZU.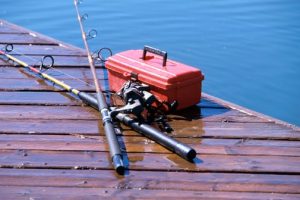 According to Clever, there are five different species of carp that live in Missouri rivers and lakes.
"Those species are the Bighead Carp, the Black Carp, Common carp, Grass Carp and Silver Carp."
As with any species of carp there are dangers to both anglers and native fish species alike. For the fishermen, carp pose a physical threat as two of the species in the state are able to jump out of the water and into boats.
""The two most commonly referred to as Asian or Flying Carp are the Bighead and the Silver Carp. . .," Clever said, "they tend to school together in large groups and then can jump out of the water when they're startled."
The invasive fish also pose a threat to boats out on the water.
"So you want to make sure that when your driving that you're watching out for submerged stumps or floating logs," Clever stated, "basically the fish are more of a distraction or can be more of a distraction when you're out on the water. . .".
All five species of carp also compete with native fish species such as the Buffalo Fish and Paddlefish for food and space in the water.
While all five species of carp are invasive, there are still regulations for catching them, which can vary by location and method used.
"There are a variety of regulations that actually pertain to carp," Clever said, "some regs pertain to live bait, some to limits that you can have, even specific locations or method of take."
To learn more about all five species of carp in Missouri and their fishing regulations, visit the Missouri Department of Conservation's website.