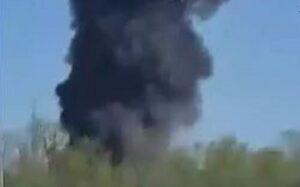 UPDATE: – 5/24 – Missouri Division of Fire Safety has ruled that a May 13 fire at a Marshfield propane tank plant may have been  accidental, although an investigation continues.
The blaze was at Kosan Crisplant Missouri Inc, formerly, Pinnacle. Investigators say they could not eliminate the cause being a spark from a dropped cylinder igniting propane.
MARSHFIELD, MO – Black smoke could allegedly be seen for miles after an explosion at a propane plant Thursday afternoon.
The plant in Marshfield, Kosan Crisplant, formerly Pinnacle, went up in flames as up to 10,000 small propane tanks caught fire and exploded, according to KY3 Springfield. Authorities say some of the tanks were flying through the air, presenting a dangerous situation for responders.
Three employees inside the facility managed to escape unharmed. One person was treated for injuries. The cause is under investigation.